Tá tú anseo:
Ceardlanna agus seimineáir
Ceardlanna agus seimineáir
We deliver workshops on children's rights to children and young people, and we give seminars for 3rd level students.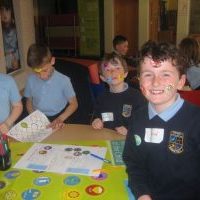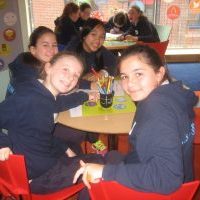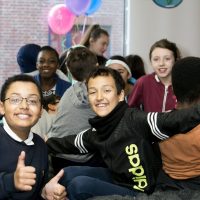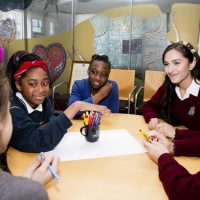 What are the workshops about?
Hundreds of children and young people interact with the OCO each year with their schools or youth groups to take part in our children's rights education workshops. We help children and young people understand what their rights are and we listen to what they have to say. We try to make rights real for children and young people by making connections between rights and their daily lives. All of our workshops are age-appropriate, interactive and fun.
What's involved?
So that children and young people who learn with us can share their learning back in their school or youth project, we give visiting groups a resource pack to support them to take action to raise awareness among their peers of children's rights. Ideas could include: creating a display board about children's rights, writing about the visit in the school newsletter/on social media or doing a bigger project about children's rights in Ireland.
You can also visit our website www.itsyourright.ie which has up-to-date information and facts about children's rights and resources for educators.
Book a workshop
To book a workshop, fill in our online workshop booking form, email education@oco.ie, or ring us on (01) 8656800.
If you're a young person, a primary school teacher, a CSPE teacher, a Transition Year coordinator, a Politics and Society teacher, a Youthreach coordinator, a youth worker or a professional working with children and young people, contact us on education@oco.ie for more information.
You can also find our online education resources here. 
Children's rights seminars for postgraduates
We also run seminars about children's rights for postgraduate students in education, social work, social care and child protection. These workshops include a presentation on the work of the office, as well as activities based on children's rights.
What people have said about our workshops
"You have a wonderful programme in place with incredibly happy, caring staff! The children were very impressed and delighted to meet the Ombudsman and ask him questions. Our visit inspired the children to think about and discuss Children's rights here and abroad. Thanks again for the opportunity and keep up the great work!" (Teacher)

"I think this was a wonderful experience. I hope children in the future enjoy it as much as my class and I have." (12 year old)

"Workshop was efficient and well delivered. One of my students said it was the best workshop they had received during the year." (Teacher)

"The most interesting part of the visit was getting to see where the Ombudsman actually works." (11 year old)

"My class and I are picky about what is fun and what is not and we thought it was great craic." (10 year old)