What does this mean?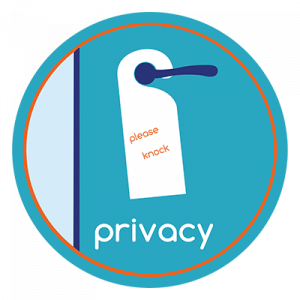 You have the right to privacy.
This right is often balanced with the best interest of the child. If an adult is worried about your safety, they may look in your locker/diary or your phone.
Schools need to keep your exam results and notes on your behaviour stored securely.
EXAMPLE: Only certain people should be able to know and read your medical records in school. They should be on a 'need to know' basis. This protects your privacy.
Learn more about this right
UNCRC, article 16, it's your right to have a private life.
Under the Data Protection Acts 1988 & 2003, it's your right that your personal details (name/address/age) are used appropriately and kept by organisations in a safe and secure way.
Under the Children Act, 2001, it's your right that your name isn't published in the media if you are involved in a court case in the Children's Court, if you are under the age of 18. This protects your privacy.
Under the Child Care Act 1991, it's your right that your name isn't published in the media, and that you aren't identifiable, if your parents are in the Family Court regarding your custody arrangements.
In Ireland, there are laws about when and how people and organisations can collect and keep personal information about you.
When you give your personal information to an organisation or individual, they must keep this private and safe. This is called data protection.
The Data Protection Commission is responsible for looking after the privacy rights of people in Ireland.
If you have a worry about how your personal information is being used, you can complain to the Data Protection Commission.
There are some situations where a school can interfere with a young person's privacy. For example, a teacher can search a young person's bag if they believe s/he is carrying illegal substances or alcohol, if the young person and their parent agree to this.
It is important to keep your personal information private, especially online. There is an Online Safety Hub that gives tips on how young people can look after their privacy online.
The General Data Protection Regulation (GDPR) came into effect in May 2018 in Ireland. It asks at what age young people are old/mature enough to understand what they are signing up for online, things like social media accounts (Instagram/Snapchat).
The EU says that the age of "digital consent" should be 16 years old and not lower than 13, but has said that each country can vote for themselves. Ireland has voted that the age of digital consent is 16 years of age.
There is a campaign run by Insight that aims to hear from young people about what they think about the GDPR, and what they think the age of digital consent should be.  Many countries are deciding that the age of digital consent should be 13.
In a survey called Bridging the Digital Disconnect (2013) from Reach Out, the need for parents to respect young people's privacy was the most frequent request from young people aged 12-18 years old.
In 2016, the Department of Children and Youth Affairs (DCYA) did a survey of 6,000 young people about what right was the most important for them – 6.7% said that privacy was an important right for them.