You are here:
Know your rights
What does this mean?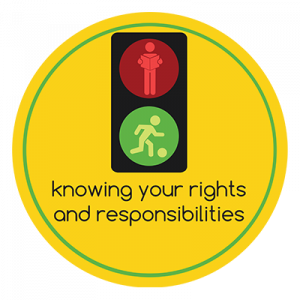 It's your right to know your rights. If you don't know your rights, it is difficult to have them realised.
Your parents should especially help you learn and understand your rights.
Every child under 18 has 42 rights. Everyone should respect each other's rights.
EXAMPLE: In school you learn about your rights in CSPE.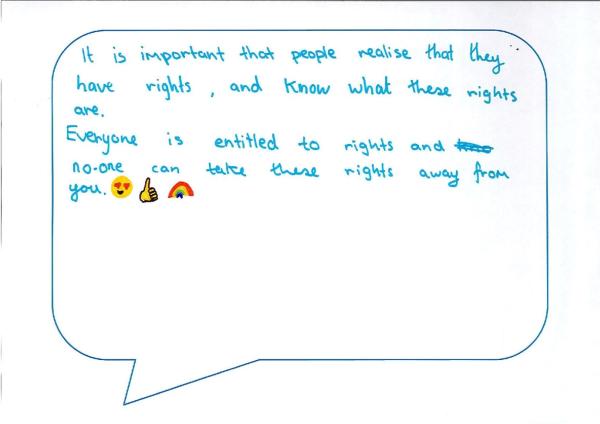 Learn more about this right
Under article 42 of the UNCRC, it's your right to know your rights. Adults should know about these rights and help you learn about them, too.
Under the Citizen Information Act 2007, it's your right get information about your rights and entitlements.
This guide will help you understand what rights you have in Ireland as a young person.
The Ombudsman for Children's Office (OCO) has a responsibility to raise awareness of children's rights and let young people know about the UNCRC.
In 2016, the OCO asked 2,148 young people how they would like to learn about their rights. The majority said they would like to learn at school, online and through videos.
The UN Committee visits countries usually every 5 years to check if they are realising children's rights as they promised they would.
In 2016, they said Ireland should make sure more children know about their rights, especially children with disabilities and children seeking asylum. They also said that professionals should receive better training about children's rights.
Students learn about rights in CSPE, SPHE and in Politics and Society for the Senior Cycle.
Citizen Information Online has information about your rights and entitlements. The Children's Rights Alliance and the Irish Council for Civil Liberties have a helpful booklet that explains what your rights are in Ireland.
Visiting the OCO – Find out how you can visit the Ombudsman for Children's Office with your class to take part in a workshop about children's rights
Express Yourself – Express Yourself! is a project by the Irish Human Rights and Equality Commission that encourages young people to get involved in promoting human rights and equality in Ireland.
Young Social Innovators – Children's rights are among the issues that young people have worked on through Young Social Innovators.