You are here:
Expressing yourself
What does this mean?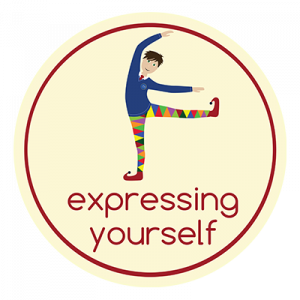 It's your right to express yourself – to find out things and share what you think with others.
This right is limited as it explains you have the responsibility not to hurt others with what you have to say.
When sharing your opinion, you can express yourself in different ways – through singing, dancing, music or debate – whatever works for you.
EXAMPLE: In some schools there is a programme called Student Voice. This allows students to express themselves and have a say in how they learn in schools.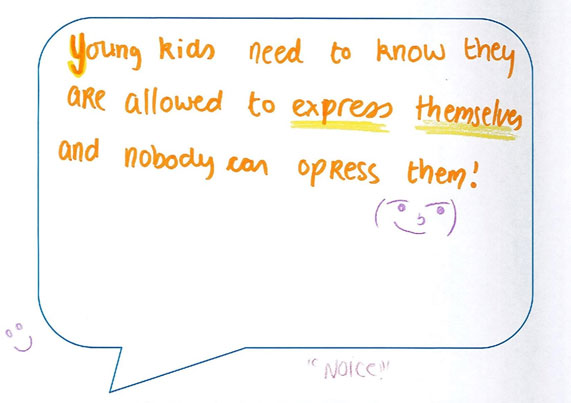 Learn more about this right
UNCRC atricle 13: It's your right to express yourself freely and share what you think, unless it harms or offends other people.
Under Article 40 of the Irish Constitution, it's your right to express yourself freely. However, there is a limit to this right as you are not entitled to say things that might provoke others to violence.
Under the Irish Constitution, it's your right to protest peacefully. This is one of your fundamental rights.
Under the Prohibition of Incitement to Hatred Act 1989, you are not allowed create or distribute racist or homophobic material, or other discriminatory materials.
The right to express yourself freely is also about being able to look for, get and share informationand ideas.
In 2018, the people of Ireland voted to remove blasphemy (insulting God) from our constitution. Previously in Ireland it was against the law to take the Lord's name in vain, although no one had ever gone to prison for doing it.
Hate speech is against the law in Ireland. This is when you say or write something that causes violence or incites hatred against certain people, for example, because of their race, nationality, sexual orientation or religion.
If you see or hear of a racist incident, you can report it here – http://www.ireport.ie
No uniform days can be a way of being able to express yourself in school. Many student councils campaignfor more relaxed approaches to uniforms and appearance.
Most Governments censor things like books/articles or films and they take out parts they think are offensive or immoral.
The Irish Film Classification Officewas set up in 1923 because of the Censorship of Films Act. This office gives video games and films different ratings according to how suitable they are for children (18/15/12A/PG).
Cartoons for Children's Rights – A short cartoon about children's right to express themselves freely, made for Unicef's Cartoons for Children's Rights initiative
Youth Information Centre – There are youth information centres around the country. To see where your nearest one is, check out here and here.
Local Libraries – Find out where your local library is.
Comhairle na nOg – a youth organisation that encourages you to express yourself and have a say in local matters.