Tá tú anseo:
An Ombudsman
An Ombudsman
Dr Niall Muldoon is the Ombudsman for Children. Niall's job is to make sure that children in Ireland are being treated fairly. He investigates complaints and promotes children's rights.
Is é Niall an dara Ombudsman do Leanaí ó bunaíodh an oifig I 2004.  Ba í Emily Logan an chéad Ombudsman do Leanaí in Éirinn.  Anois is í príomhchoimisinéir den Coimisiún um Chearta an Duine agus Comhionannas in Éirinn.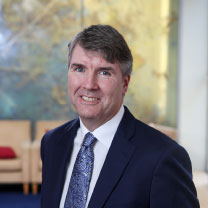 Tuilleadh eolais faoi Niall
Niall is ainm dom agus is mise Ombudsman na Leanaí in Éirinn.  Cheapadh mar Ombudsman mé ag an tUachtarán Michael D. Higgins 17 Feabhra 2015.

Ba síceolaí chliniciúil mé agus d'obair mé sa réimse chosaint leanaí ar feadh beagnach 20 bliain.

Sula cheapadh mar Ombudsman do Leanaí mé, d'obair mé mar Stiúrthóir Fhiosrúcháin in OOL, agus roimhe sin ba stiúrthóir cliniciúil náisiúnta mé den Fondúireacht CARI, carthanacht a chuireann teiripe agus tacaíocht ar fáil do leanaí a d'fhulaing drochúsáid ghnéasach.

Tá cónaí orm i mBaile Átha Cliath, in éineacht le mo bhean chéile agus beirt iníonacha.  Cé mar tacadóir díograiseach den CLG tuigim na buntáistí a bhaineann le bheith i mo Dub, is Conallach amach is amach mé.

Is é mo rún mar Ombudsman do Leanaí, Éire a fheiceáil mar tír ina bhfuil cluas éisteachta agus meas tugtha do leanaí agus daoine óga ionas gur féidir leo a bheith sábháilte, sona ina saolta laethúla.