The Ombudsman
Dr Niall Muldoon is the Ombudsman for Children. Niall's job is to make sure that children in Ireland are being treated fairly. He investigates complaints and promotes children's rights.
Niall is the second Ombudsman for Children since the office was established in 2004. Emily Logan was the first ever Ombudsman for Children in Ireland.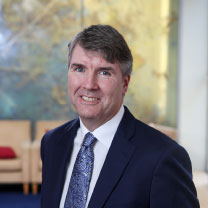 More about Niall
Hi. My name is Niall and I am Ireland's Ombudsman for Children. I was appointed as Ombudsman by President Michael D Higgins on 17 February 2015.

My background is as a clinical psychologist and I've worked in the area of child protection for almost 20 years.

Before becoming Ombudsman for Children in 2015, I worked at the OCO as Director of Investigations, and before that I was the national clinical director of The CARI Foundation, a charity that provides therapy and support for children affected by sexual abuse.

I live in Dublin with my wife and two daughters, and although as a passionate GAA supporter, I can appreciate the positives of being a Dub, I am a Donegal man through and through.

As Ombudsman for Children, I want to see an Ireland where all children and young people are actively heard and respected so that they experience safe, fulfilling and happy everyday lives.