Our team
The OCO team is made up of Complaints and Investigations; Participation and Rights Education; Policy and Research; Communications and Corporate services.
The Complaints and Investigations team respond to complaints from the public about services provided to children. They talk to those who make complaints to find out more about their problem and they interact directly with the public body. The OCO Complaints and Investigations team always try to resolve issues early. If they can't, then they will examine the issue further and in some cases carry out a full investigation.
The Participation and Rights Education team run our workshops and seminars. They are responsible for raising awareness of children's rights by interacting with, and consulting directly with children and young people.
The Policy and Research team are responsible for submissions and advice made by the OCO to Government, the UN or other bodies. They carry out research on children's rights issues and they ensure that the Ombudsman and the rest of the OCO team are briefed on international human rights standards.
The Corporate Services team at the OCO make sure that Office runs efficiently and that the operation of the office adheres to all relevant legislation as a statutory body.
The Communications team deals with media queries, OCO publications, our website and social media platforms. They also support and promote all of the other work that takes place across the Office. It is the role of the Communications team to make the OCO more accessible and to help people understand our views on issues relating to children's rights.
Aoife Carragher, Communications Manager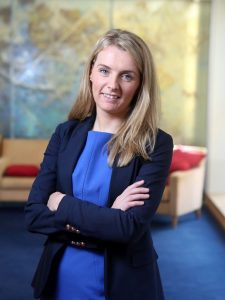 Hi, I'm Aoife and I am Communications Manager at the OCO. I have been with the OCO since May 2016. It is my job to increase awareness of children and young people's rights, as well as awareness of the OCO through media, communication with stakeholders, Government and the public.
I coordinate and oversee OCO publications, I look after our website, social media and I help Niall or any members of the team who are doing media interviews. I prepare speeches and presentations for various events, I look after branding, design of leaflets and any other materials that are needed. I arrange OCO events and I work on communications within the office to ensure that all of our information is accessible.
Before working with the OCO I was a press officer for Fine Gael in Leinster House, and before that I was Head of AA Roadwatch, Ireland's leading traffic and travel provider. I have a Masters in Public Affairs and Political Communications from DIT and a BA in Media Studies and German from NUI Maynooth (now Maynooth University). Outside of work you'll find me running the roads, meeting with friends, curled up with a good book or talking politics and celebrity gossip to whoever will listen!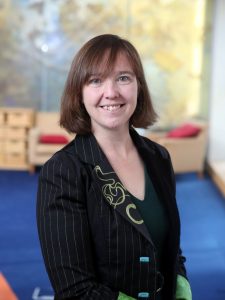 Nuala Ward, Director of Investigations
My name is Nuala Ward and I am the Director of Investigations for the Ombudsman for Children's Office in Ireland. This means that I oversee a team of people that look at complaints made by, or on behalf of children, about public services.
I have over twenty years' experience working with children here in Ireland and in the United Kingdom. I went to university and I have qualifications in social work, psychology and human rights.
When I'm not working I like to go for walks, meet up with friends and I travel back to my home county of Donegal when I can.
Karen McAuley, Head of Policy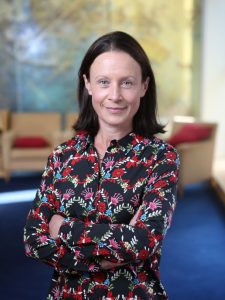 My name is Karen McAuley and I am the Head of Policy with the Ombudsman for Children's Office (OCO). This means that I lead the OCO's work to prepare advice on laws and public policies that affect children's rights and welfare. I am also responsible for the OCO's research work and different projects the OCO does to encourage public services to work in a child-centred way.
I have over 15 years' experience working in the field of children's rights in Ireland. Before I had this job, I was the OCO's Head of Participation and Education and before I joined the OCO in 2007, I worked independently (2005-2007) and with Amnesty International (2003-2004) and the Children's Rights Alliance (1999-2002). I have a BA in English and German from Trinity College Dublin and an MPhil and PhD from Cambridge University. When I'm not working, I enjoy spending time with family and friends and I like being outside as much as possible, whether that's walking a beach, hiking in the hills, swimming in the sea or pottering in the garden.
Carmel Corrigan, Head of Participation and Rights Education
I'm Carmel Corrigan and I am Head of Participation and Rights Education at the Ombudsman for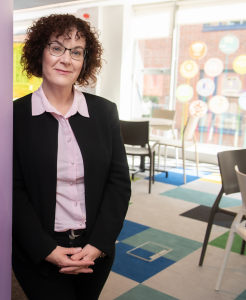 Children's Office.  One part of my job, and that of my team, to undertake consultations with children on topics that are important to them.  This is to make sure that politicians, policy makers, people who provide services and the public are aware of children's views.  We also try to encourage other organisations to listen to children.  My team also run the OCO's Youth Advisory Panel, a group of children aged 13 to 17 who give us their views and advice on the work of the office, projects and policies.  Another part of my job is to make children and adults are aware of children's rights and the United Nations Convention on the Rights of the Child.  My team do this by running workshops and lectures for children and adults who will be working with them, speaking at conferences and seminars and attending events.
My PhD is in Social Work and Social Policy and was awarded by Trinity College Dublin.  I hold a BA in Sociology and History and an MA in Sociology from NUI Maynooth and a Post-graduate Diploma in Child and Family Law from the Irish Law Society.  I also worked as an independent investigator and project manager for the OCO before taking up the post of Head of Participation and Rights Education in 2018.
When I'm not working my favourite thing to do is spend time with my children, family and friends. I really enjoy having a crowd in my house for lunch, dinner or a party.   I have also taken up woodturning and thankfully still have all my fingers so far! I enjoy curling up with a good thriller, a long walk with our dog, baking and word games.