A Guide to Child-Centred Complaints Handling
February 2018
Type: Advice
Topic: Child protection, Children in care, Disability, Education, Family law, Health, Housing, Mental health, Youth justice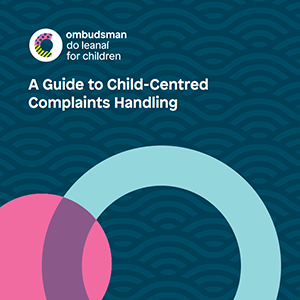 This Guide to Child-Centred Complaints Handling sets out core principles of good practice for dealing with complaints made by or on behalf of children. We have developed the Guide to encourage and support organisations that provide services to children, and make decisions that impact on children, to deal with complaints in accordance with good practice and in a child-centred manner.
This Guide, including the principles of good practice set out in it, is informed by our extensive experience of dealing with complaints and by a literature review, undertaken for the OCO by the Child Law Clinic, School of Law at University College Cork. This review incorporated an analysis of relevant children's rights standards and of initiatives in other countries to promote good practices in handling complaints affecting children. It also looked at international studies that include the views of children and young people on the complaints processes they have experienced across a wide range of sectors.
We hope this Guide will be of assistance.
February 2018
Type: Advice
Topic: Child protection, Children in care, Disability, Education, Family law, Health, Housing, Mental health, Youth justice