Too many children in Ireland whose rights are being violated
27 September 2017
Type: Press Release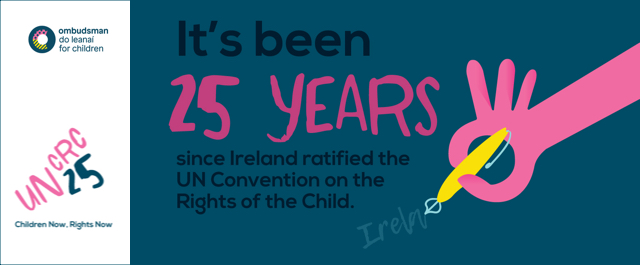 25 years after Ireland ratified the UN Convention on the Rights of the Child (UNCRC), the Ombudsman for Children, Dr Niall Muldoon is reflecting on children's rights in Ireland and highlighting the thousands of vulnerable children whose rights are still being violated.
Speaking ahead of an event in Croke Park to mark the 25th anniversary of the UNCRC, the Ombudsman for Children, Dr Niall Muldoon said
"It's been 25 years since Ireland ratified the UN Convention on the Rights of the Child and though significant progress has been made in the area of children's rights there are still thousands of homeless children, children with disabilities, children in care, children in Direct Provision, children with mental health issues, children who are sick and children who are being abused whose rights are not being respected. As a nation, now is a time to talk about Children Now and Rights Now.

"Children's rights is not just about the right to safety and child protection, it is about a young person's right to development, education, health, play, to a home, their right to be heard and more.

"This year the Ombudsman for Children's Office will be marking the 25th anniversary of Ireland ratifying the UNCRC with a series of events and activities. We're kicking off this Thursday in Croke Park with an event which will be attended by 200 young people and 50 policy makers, children's advocates and researchers."

"The goal for the day will be to hear from young people themselves about how they feel their rights are being promoted, particularly considering the influence of technology, the challenges around mental health and some social issues like homelessness that are impacting on their rights every day.
President Michael D Higgins, commenting on the anniversary in a message to the young people attending on the day said:
"Today is rightly a day of celebration, but it is also a day for renewal and further commitments. As President of Ireland, I encourage you all to continue to use your voices, with pride, bravery and knowledge, in pursuit of the vision for a better country for us all."
Niall continued:
"We all have a responsibility to promote and protect children's rights. On the anniversary of the UNCRC I am calling on everyone to do exactly as President Higgins has recommended; to use your voices, listen to young people, ask the questions that need to be asked and make a difference for children.

"To start the conversation on children's rights, we created a film in partnership with young people. This film shows that children's rights are everywhere, they affect young people every day, and young people take on the worry and anxiety of not only their own issues, but also those of their friends.

"Our event this Thursday is just the beginning of our celebration of the 25th anniversary of the UNCRC. It will be an important starting point in a year-long conversation about children's rights in Ireland today."
ENDS
Contact
Aoife Carragher
Communications Manager
087 148 4173/ 01 865 6806
Note to Editor
Children Now Rights Now will take place at Croke Park on Thursday 28th September from 10am to 3pm.  Speakers include:
Dr Mary Aiken, Cyber Psychologist
Harry McCann, Founder and MD of Kid Tech and Digital Youth Council of Ireland.
Professor Jim Lucey, Medical Director of St. Patrick's Mental Health Services
Jamie Harrington, Mental Health advocate and former Teenline ambassador.
Ruairi McKiernan, Founder of Spunout.ie
Diarmuid McKeever, Foroige Youth Citizenship award winner 'Refugee Welcome Pack'.
Roisin McArdle, Foroige Youth Citizenship award winner 'It's all in your Head'.
John Burke, Mountaineer and founder of 'Elevate' youth wellness organisation and Hotelier.
Joanne O'Riordan, disability campaigner, 2012 Young person of the year and subject of the film 'No Limbs, No Limits'.
27 September 2017
Type: Press Release