OCO Covid-19 Update
19 March 2020
Type: Press Release
Topic: Child Protection, Health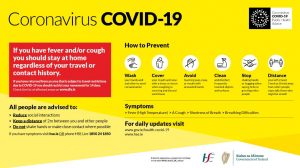 As a result of the ongoing health crisis caused by Covid-19, the Ombudsman for Children's Office (OCO) is following Government guidelines and adapting work practices. This means that we don't have as many staff in the office and we are asking people to contact us via our website or by email. Contact us here or email oco@oco.ie.
The OCO is still taking complaints and dealing with ongoing complaints on behalf of children. However, due to the serious nature of the problems facing the country, and the public sector, we expect there will be a delay in the processing of complaints.
The impact of Covid-19 will be felt by everyone in Ireland, including our children and young people. The OCO is here to protect and promote their rights, and we will continue our work to ensure that their voices are heard throughout this crisis and in the months ahead.
The OCO is committed to playing our part in delaying the spread of Covid-19 and supporting the national effort as best we can.
We will continue to follow Government and public health guidelines as this situation evolves.
If you are concerned about the safety of a child, visit www.tusla.ie or www.garda.ie.
For more information on Covid-19 and how to stop the spread visit https://www2.hse.ie/coronavirus/
We would like to thank the public for their patience and understanding at this time.
19 March 2020
Type: Press Release
Topic: Child Protection, Health