Child Talks 2019 – Children having their say on World Children's Day
19 November 2019
Type: Press Release
Topic: Education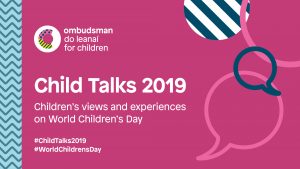 Child Talks will see nine young people take to the stage to share their views and experiences on World Children's Day. The Kabin Crew, a collective of young singers and rappers, supported by Music Generation, will also perform a piece especially composed for this event.
Child Talks will take place at The Printworks, Dublin Castle on World Children's Day, Wednesday 20th November and is hosted by the Ombudsman for Children's Office. The opening address will be delivered by the Minster for Children and Youth Affairs, Katherine Zappone.
Child Talks will be broadcast live on Facebook and RTÉ News NOW ensuring that all young people have access to this special event.
Speaking ahead of Child Talks the Ombudsman for Children, Dr Niall Muldoon said
"Today, on World Children's Day, we are celebrating children by listening to what they have to say about issues that are important to them. They are determined to be heard by Minister Zappone and the others at all levels of power in Irish society.
"Months of work has gone into the talks you will hear from the young people. I know that we are in for some really inspiring and thought provoking stories. As always, I am inspired by the abilities of young people and their inherent sense of fairness.
"Child Talks will explore topics including mental health, disability, education, period poverty, climate change, voting age and community participation. The young people taking part are from all over Ireland and we will also have a young person travelling from Tanzania. The theme of this year's Child Talks is Be Your Best Self.
"This year marks the 30th anniversary of the UN Convention on the Rights of the Child. The young people today remind us that despite the progress made there is still more to do to protect and promote children's rights in Ireland. There are still too many young people on the fringes and too many young people falling between the cracks within Irish society.
"As well as attending Child Talks, I will also be speaking before the Joint Oireachtas Committee on Children and Youth Affairs. This is another opportunity to impress on Government the priority areas for children and the continued commitment needed."
ENDS
Contact:
Aoife Carragher
Communications Manager
Note to Editors
Child Talks speakers include:
Lily, aged 12 is from Dublin and she will be talking about personal budgets and how she feels that something that should be about inclusion turns out to be excluding people.
Carly, aged 14 is from Co.Laois. She will be talking about period poverty and how it's a­ffecting young women.
Amina, aged 13 year is from Dodoma, a central part of Tanzania in East Africa. She will speak about the challenges she faces as a girl child in Tanzania and the activities which enable her to be her best self.
Oisin, aged 17 is a wheelchair user with Spina Bifida and an athlete. Oisin will talk about equity for the disabled community.
Ellen, aged 15 is from Donegal. She will talk about climate change, why she is so passionate about this subject and the changes she feels need to be made.
Ryan, aged 15 is originally from Dundalk in Co. Louth but now lives in Clane, Co. Kildare. Ryan has have ADHD and dyspraxia. He will talk about his experience as a young person with a disability.
Leanne, 17 is from Dublin and she will talk about her relationship with her sister who has a diagnosis of autism and why she believes all young people deserve to live their best life regardless of their needs or abilities.
Kate, aged 16 is from Wicklow. Kate will talk about how her chromosomal disorder has made life difficult for me and the challenges she has faced in terms of both her physical and mental health.
Eric, aged 17 is from Longford and he will talk about why he believes that more young people from diverse backgrounds should run for election.
The Kabin Crew will perform as part of Child Talks. The Kabin Crew is a collective of young rappers and singers with GMCBeats Workshops, supported by Music Generation Cork City. Music Generation is Ireland's national music education programme operating in 22 cities and counties across Ireland. Music Generation aims to transform the lives of children and young people by creating access to high quality, affordable music tuition in their local areas.
The Ombudsman for Children's Office is an independent statutory body with an overall mandate to promote the rights and welfare of children under the age of 18 living in Ireland.
Among the Ombudsman for Children's core statutory functions is the independent and impartial investigation of complaints made by, or on behalf of, children in relation to public bodies, as well as organisations providing services on behalf of the State.
19 November 2019
Type: Press Release
Topic: Education