Observations on the General Scheme of the Data Protection Bill 2017
June 2017
Type: Advice
Topic: Data Protection, Online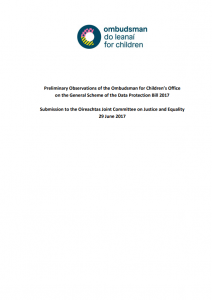 The General Scheme of the Data Protection Bill 2017 ('General Scheme') was published on 12 May 2017. The stated aims of this legislation are: to give further effect to the General Data Protection Regulation (GDPR), which will come into force on 25 May 2018.
We prepared this submission in response to an invitation from the Oireachtas Joint Committee on Justice and Equality and pursuant to Section 7(4) of the Ombudsman for Children Act 2002 (as amended), which provides for the Ombudsman for Children to advise on any matter relating to the rights and welfare of children, including proposals for legislation affecting children.
We welcome the publication of the General Scheme of the Data Protection Bill 2017 and the opportunity it presents to strengthen the protection and fulfilment of the rights of children and young people under the age of 18 in respect of information society services.
June 2017
Type: Advice
Topic: Data Protection, Online