Barriers to the Realisation of Children's Rights in Ireland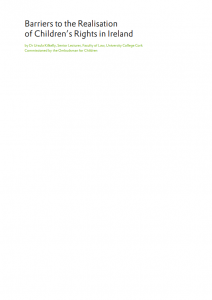 This research was commissioned in 2006 by the Ombudsman for Children as a baseline research study concerning children's rights in Ireland. Its objective is to identify the principal obstacles children and young people face with regard to the realisation of their rights under the Convention on the Rights of the Child.
This research was undertaken by Dr Ursula Kilkelly, Senior Lecturer, Faculty of Law, University College Cork.