You are here:
My UNCRC Journey by Guest Writer Ailís
Our first entry of the Scrawl for 2023 comes from Ailís who is on our Youth Advisory Panel (YAP). Ailís was one of a group of 14 YAP members to travel to Geneva with OCO reps last September, to present our 'Pieces of Us' report to the UN Committee on the Rights of the Child.
She is also a member of her local Comhairle na nÓg in Co. Offaly. This year the theme of Comhairle Offaly is Inclusion and Disability.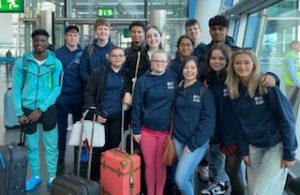 I went to the United Nations in Geneva, Switzerland in September 2022 together with my friends on the Youth Advisory Panel (YAP).
We spent a year and a half in person and online learning about the United Nations Convention on the Rights of the Child.
We created a survey for the children of Ireland to give us information on how they understand their rights. The OCO also did focus groups with children.
We heard from 5,700 young people.  This gave us information to put in a report to the United Nations.  The report is called "Pieces of Us."
Each member on the Youth Advisory Panel created a speech based on "Pieces of Us."
My role was to introduce the Youth Advisory Panel and other speakers.
I also shared that I liked working on YAP because it was fun to make new friends from all over Ireland and it was interesting to hear what other young people said about their rights.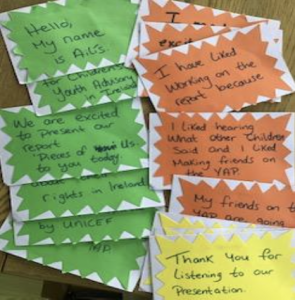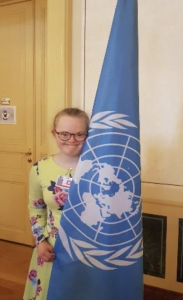 We met with members of the United Nations Committee on the Children's Rights Convention.
The Committee members were excited to have young people in the room and to hear our views.
My hope is that what we said in Geneva may make a difference for the children of Ireland.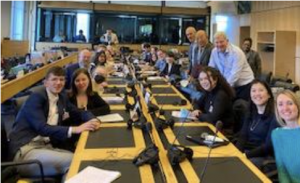 I feed proud to have been a member of the YAP.  It has given me more confidence to use my voice to work for the rights of all children.