You are here:
Pieces of Us – What's Next?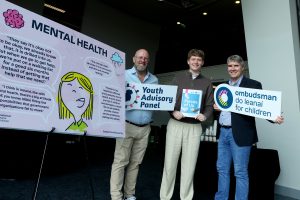 It was Friday 21st of July, almost 10 months since the Youth Advisory Panel had been to Geneva to meet the UN Committee on the Rights of the Child (UNCRC).The time had come for the young people of Ireland to come together and decide where they wanted the Government to focus on in response to the UNCRC's recommendations.
The event 'Pieces of Us - What's Next?' took place in Croke Park and the atmosphere on the day was truly on par with an All-Ireland Final. The OCO Youth Advisory Panel (YAP) had been preparing for the past few weeks, rehearsing tirelessly, ensuring that we had a smooth running show on the day.
Our brilliant hosts Karolina and Méabh took to the stage and welcomed everyone to the conference. We had children come from all parts of Ireland with different groups, ethnicities, nationalities, genders and abilities all taking part.
Alongside our Ombudsman, Dr. Niall Muldoon, we even had Philip Jaffé fly all the way over from Geneva and take part in the event too! Philip Jaffé is on the UN Children's Rights Committee.
Every YAP member got to take part in the event, speaking on the various topics that had been presented to the UNCRC. The YAP members spoke so eloquently and were shining examples to everyone there.
In between everyone trying to get photos outside of the pitches and the speeches, we had lunch, which was a stampede of hungry children to get their food. Lunch was a great time for people to mingle and catch up and for the YAP to take a breather. But their job wasn't done.
After lunch all the adults were instructed to leave the room aside from the facilitators. Every YAP member (and a few former ones) hosted different discussions around various topics directly with the children.
The YAP heard every child's concern and hopes around issues facing children in Ireland today. We will work hard with the Ombudsman for Children to get the Government to implement changes children want.
Karolina and Méabh brought the event to a close and Philip Jaffé and Niall Muldoon gave their  closing remarks.
What a day it was!! Everyone who took part should be so proud of themselves for the impact they have made.