You are here:
The right to education…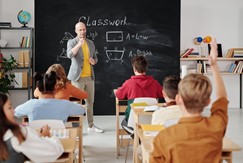 Since the Education Rights Act of 2018, schools cannot allocate places based on religion. However, schools can still allocate 25% of places to the children of former students. Also, in the 2016/17 academic year, 96% of primary schools in the country had a religious patron that had a say in the way the school was run. These two factors can severely limit the amount of choice that parents/guardians and children have when choosing a school.
In addition to this, there is also a concern in relation to the disadvantages that are faced by certain groups of children, such as homeless children, children with disabilities, Traveller children, children seeking asylum, children in one-parent families, and children in care.
For example, there have been delays in placing children living in Emergency Reception and Orientation Centres (EROCs) into recognised schools, so that they can receive their right to quality education.
Concerns have also been raised in connection to limited access to devices and/or broadband. This isn't allowing some children to use technology to reach their full potential in their education.
There is also a lack of frameworks in place to investigate schools that have a higher rate of suspension or expulsion, and the ways that suspension and expulsion rates are monitored are also lacking clarity.
In the OCO's Submission to the UN Committee, they suggest that questions be asked of the State in relation to the measures that are been taken to "ensure all children can access, participate and benefit from education", to "address root causes of educational disadvantage and support access", and to "ensure that children have equitable access to the online environment".
I think that it is extremely important that the State takes these issues into consideration and introduce measures that will allow children to reach their full potential in school. I think that education is so important, as it is a huge factor in a child's wellbeing and in their future.