Ellen Keane and Paddy Smyth host event for children with disabilities
27 Iúil 2022
Cineál: Preaseisiúint
Ábhar: Míchumas
The Ombudsman for Children's Office is today (Wed 27th July) launching Beyond Limits – two events for children with disabilities and their families taking place this October. Beyond Limits is coming to Knocknarea Arena, ATU Sligo on 1st October and The Sports Arena, University of Limerick on 15th October.
Beyond Limits will be presented by Paralympic Gold Medalist, Ellen Keane in Limerick and Disability Ambassador, Paddy Smyth in Sligo.
Beyond Limits is a festival style event with speakers, activities, workshops and performances. Children and families will be inspired and motivated by the stories of children with disabilities, and some well-known faces. The GAA, the IRFU, the FAI and Gymnastics Ireland will be there showing children how they can get involved. There will be a silent disco, sensory stories, arts and crafts, yoga and mindfulness. There is something for everyone!
Tickets for Beyond Limits are free but limited and are available at www.beyondlimits.ie.
Speaking ahead of the launch the Ombudsman for Children, Dr Niall Muldoon said:
"Beyond Limits is about showing how every child can reach their own potential. We are creating two fun, inclusive and accessible events that showcase the skills and talents of people with disabilities, and where children and families can learn about activities they can get involved in."
Speakers and performers confirmed so far include:
Saoirse Ruane – Saoirse is a Galway girl best known for her appearances on the Late Late Toy Show.
Jack Kavanagh – In 2012 Jack suffered a life changing spinal cord injury leaving him with 15% muscle function, in the years since Jack has challenged the perceived limitations of his situation.
Katie George Dunleavy and Eve McCrystal – Katie George and Eve are amongst the most successful Para Athletes ever to represent Ireland having medalled consistently at World and Paralympic Games since 2014.
Dr Colman Noctor – Colman is a Psychotherapist, Assistant Professor of Mental Health, Author, Columnist and Broadcaster.
Mark Smith – Mark is an award winning actor and founding member of Run of the Mill Theatre.
Ian O'Connell – Presenter of Stand Out with Ian O'Connell on Radio Kerry.
Padraig O'Callaghan – Padraig was awarded Limerick Person of the Year after he inspired the local community during the pandemic with his weekly motivational videos called "Paudcasts".
Adam O'Brien – Adam is autistic, has Dyspraxia and a generalised anxiety disorder but he not let his difficulties hold him back.
James Casserly- James is travelling the 32 counties of Ireland on public transport and you can follow him on Jimbos Accessible Adventures.
Fiacre Ryan – In 2018, Fiacre became the first non-verbal autistic student to sit the Leaving Cert exams and in March of this year, he scripted his own documentary "Speechless" for RTÉ.
Derek Ryan – Country Music star who will perform and be interviewed by one of our young presenters.
Dancing with the Stars – John Nolan from Dancing with the Stars will perform with some children with disabilities
Beyond Limits Youth Advisory Panel – A group of amazing young people of all abilities are helping to plan Beyond Limits. They are also going to be co-hosts and speakers at the events.
ENDS
Contact
Aoife Carragher
Head of Communications
087 148 4173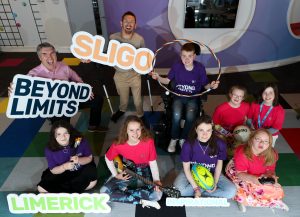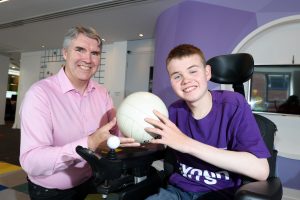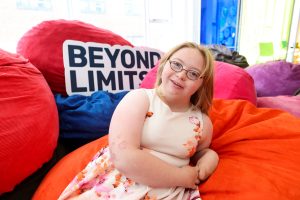 27 Iúil 2022
Cineál: Preaseisiúint
Ábhar: Míchumas