You are here:
Beyond Limits
Beyond Limits
Our event for children and young people with disabilities
Beyond Limits is our event for children and young people with disabilities, showing them the opportunities open to them, talking about the issues they want to talk about, highlighting inclusiveness, talking about the role of technology.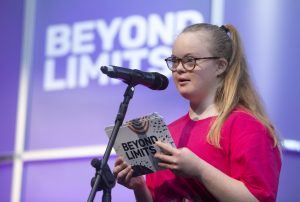 In 2022, we brought Beyond Limits to two locations in Ireland – Sligo on October 1 and Limerick on October 15. Hosted by Paddy Smyth and Ellen Keane, our speakers included Mark Smith, Saoirse Ruane, Katie-George Dunleavy, Adam O'Brien, James Casserly, Jack Kavanagh, Dr.Colmon Noctor and so much more.
We also had some incredible performances from Music Generation, The Bluestack Choir, and Dancing With The Stars, as well as some sports try-outs with the Gaa, IRFU and FAI.
To help us organise Beyond Limits 2022, we have created a Youth Advisory Panel (YAP) of eight young people of all abilities. They advised us on how they wanted the event to be run, who they wanted to see, and what activities should be available to young people. We met with our YAP every month to update them on our progress and make sure they had their say in Beyond Limits 2022. Many of our YAP members took to the stage for Beyond Limits to tell their story of living with a disability as a young person in Ireland.
Beyond Limits Sligo
Beyond Limits Limerick
















In 2019, we held our first Beyond Limits summit. Our speakers included Mark Pollock, Paralympians Micheal McKillop and Ellen Keane, Disability Rights Activists Joanne O'Riordan, Adam Harris, and Lousie Bruton, comedian Tanyalee Davis and theatre performer Mairead Folan. Natalya O'Flaherty.
We also worked with the National Youth Orchestra Ireland to create a collaborative piece with children of various abilities that include the Bluestacks Choir, Donegal and St Paul's Special Needs School, Mallow, Co. Cork.
In order to organise this event we conducted a consultation with young people with disabilities. The overwhelming message from the children was that they do not see themselves as disabled and that disability is diverse. Beyond Limits is not just a one day event. We want to generate a conversation about disability and how it affects young people in Ireland. We want to show others how they can include children with disabilities on a large scale and we want to leave behind a lasting legacy that promotes inclusion on all levels.
You can watch Beyond Limits 2019 here:












Testimonials
"Loved the variety of speakers. Amazing variety of activities during break times"
"I liked how the kids/children were heavily involved it wasn't all adults speaking to adults"
"Very family friendly for all ages, entertainment was really good."
"The event was very relaxed, inclusive and entertaining"
"It was amazing to hear directly from all the children and young people with disabilities who have achieved so much, it was inspirational. It was great that the event was so inclusive and accessible."
"Excellent opportunity for people with disabilities and even those without, creating awareness, listening to the journeys, experiences and stories. Please make this an annual event!"
"It was family oriented and not just for the individual with the disability."
What activities did you participate in?
Sensory story time. Football. Gaming station
The gaa, rugby, soccer, making sensory bottles
Arts and Crafts
Planting seeds. And we meet a lot of people.
Table tennis, musical instruments, football, computer games.
Yoga, arts and crafts, sensory unit, cooking class
The cookery demo. Silent disco, Mindfulness.